EasyCalendar now integrates with HubSpot. HubSpot is an inbound marketing and sales platform that helps companies to attract visitors, convert leads, and close customers. It does this by bringing together a variety of functionalities and allowing marketing and sales departments to manage all their activities in one place.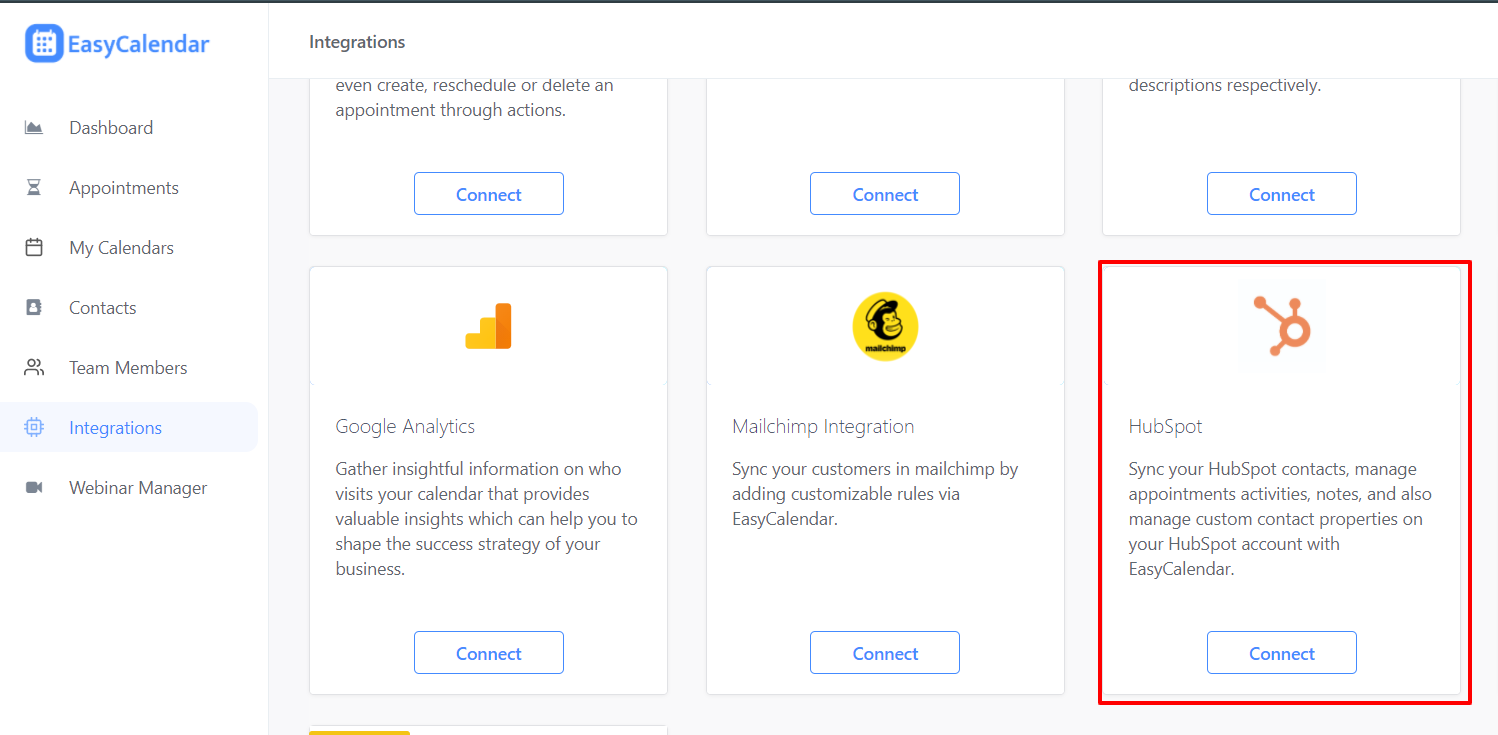 By integrating HubSpot with EasyCalendar, you can sync your contacts, manage your appointments, assign activities or notes.
Key feature of our HubSpot integrations
Integrating your HubSpot account with EasyCalendar will provide these key features to enhance your user experience.
#1 Manage your leads, contact, and prospects from EasyCalendar.
EasyCalendar will sync all the contacts from your integrated HubSpot account regularly.
It will help you keep track of your contacts, leads, and prospect's appointments. You can even assign activities and notes for your convenience, and it will automatically get logged into the respective contact in your HubSpot account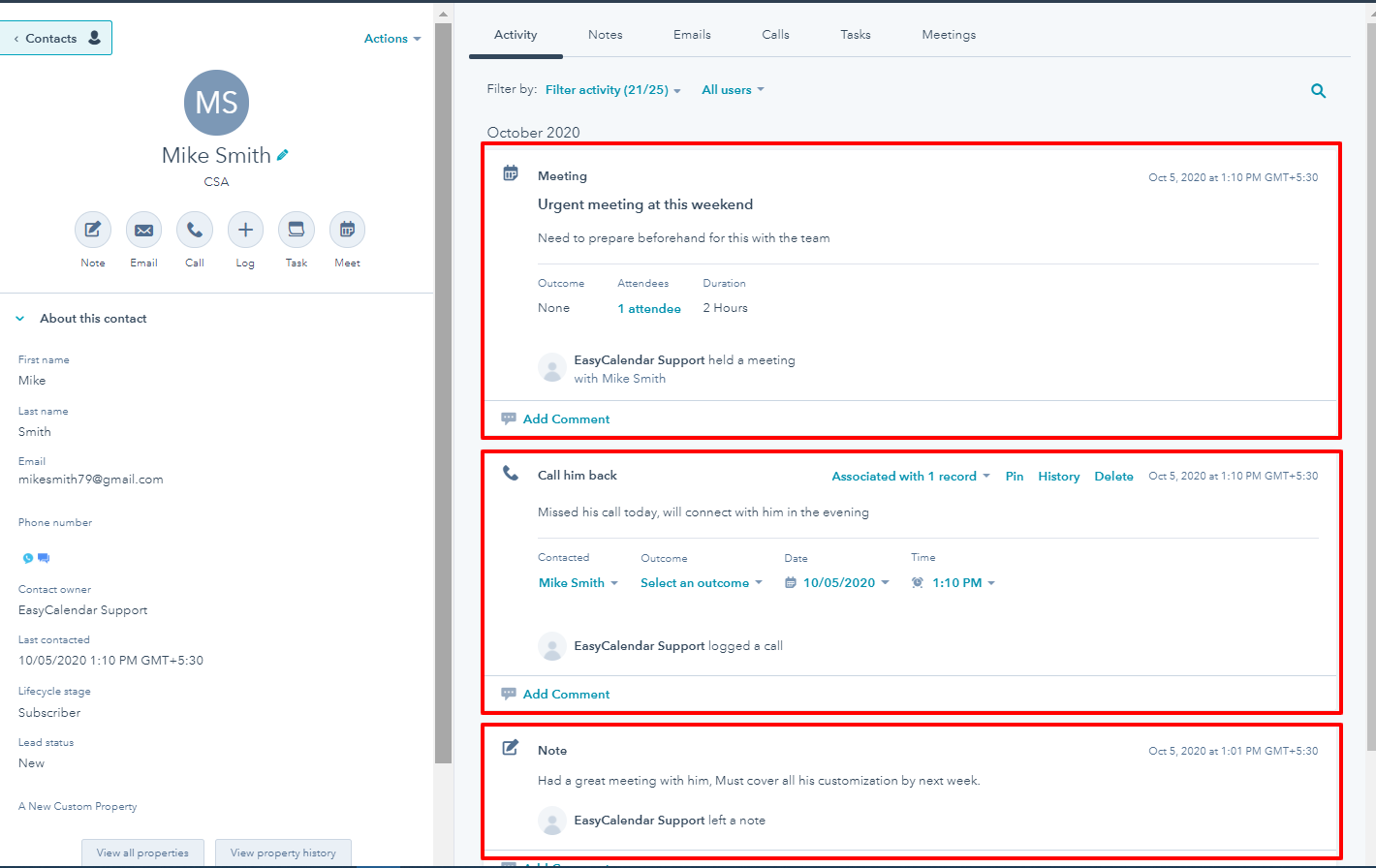 #3 Keep a track of your appointments
Whenever your contact books an appointment with you, EasyCalendar will sync it as an activity in your HubSpot contact.
If the contact doesn't exist in your HubSpot account then EasyCalendar will create that contact in your account after that EasyCalendar will proceed with logging the appointment activity in that contact.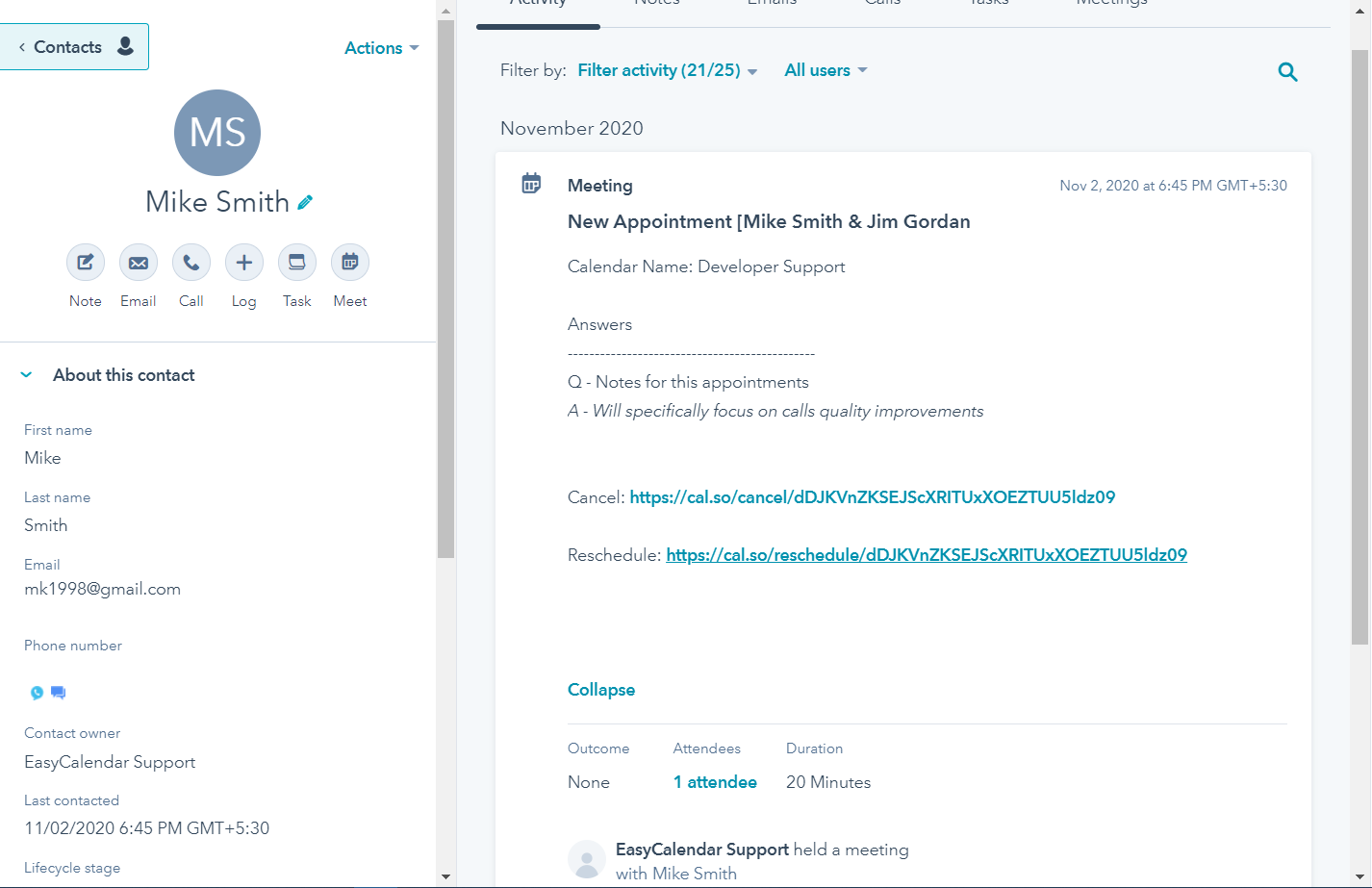 EasyCalendar will also update your appointment activity if the appointment is reschedule or cancel with updated details.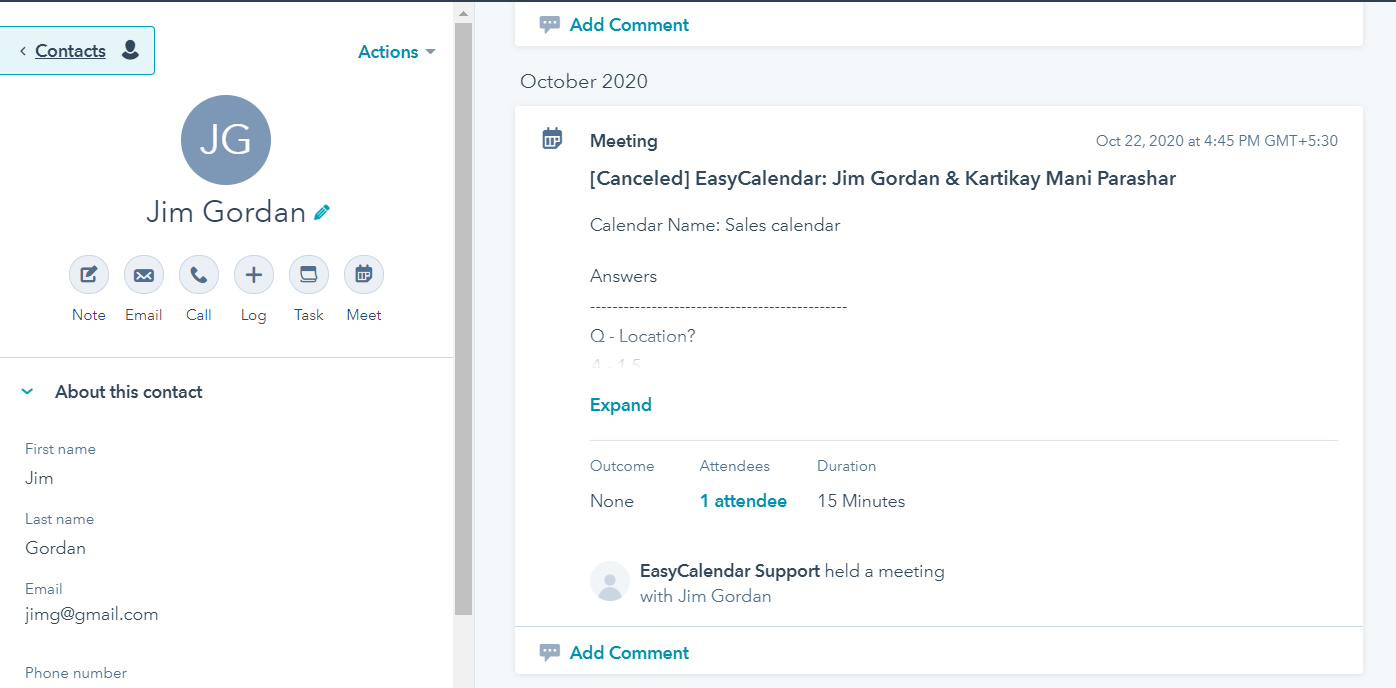 #4 Custom contact property
You can log your calendar's custom booking question as contact property and even manage them from the HubSpot integration settings.
You can find these settings by clicking the settings option present in the HubSpot integration card's dropdown menu.

Then a modal will appear consisting of the settings and functionality you need to add custom contact property to your HubSpot account.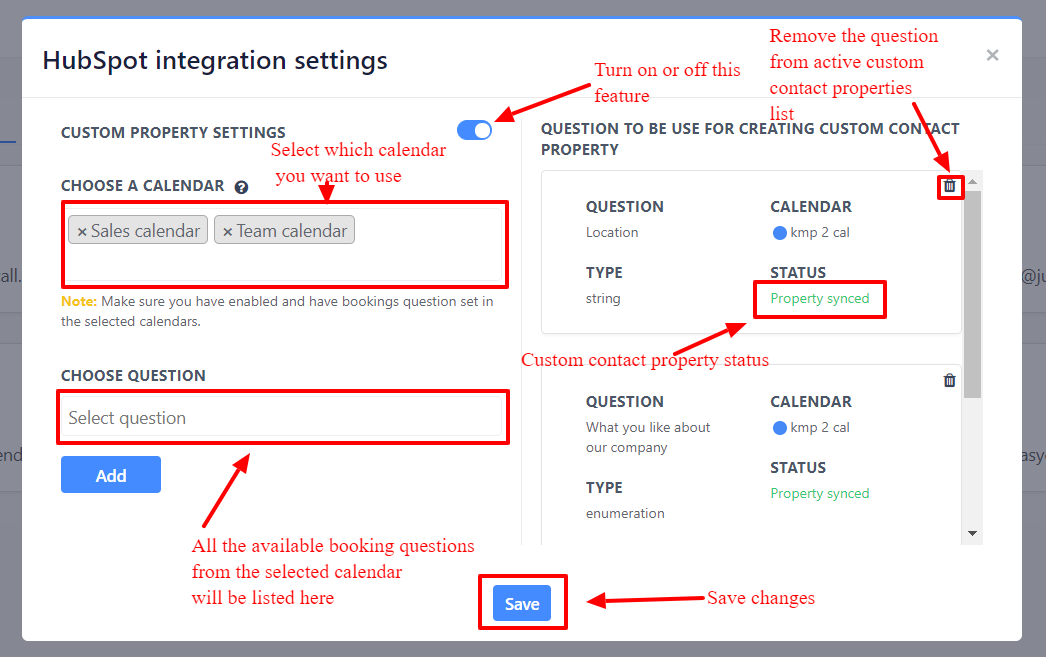 Note: You need to delete the custom contact property from your integrated HubSpot account manually if you want to add that property again to or it will cause an error. Profile & Preferences>Properties>Type EasyCalendar in the search field>Select the contact property you have deleted from EasyCalendar>Click delete icon which appears at the top of the list.
The added booking question will be automatically sync in your HubSpot contact properties and you will see status changed to Property sync (initially which will be Pending).
You can manage them from View all properties option under your contact details view or from Profile & Preferences.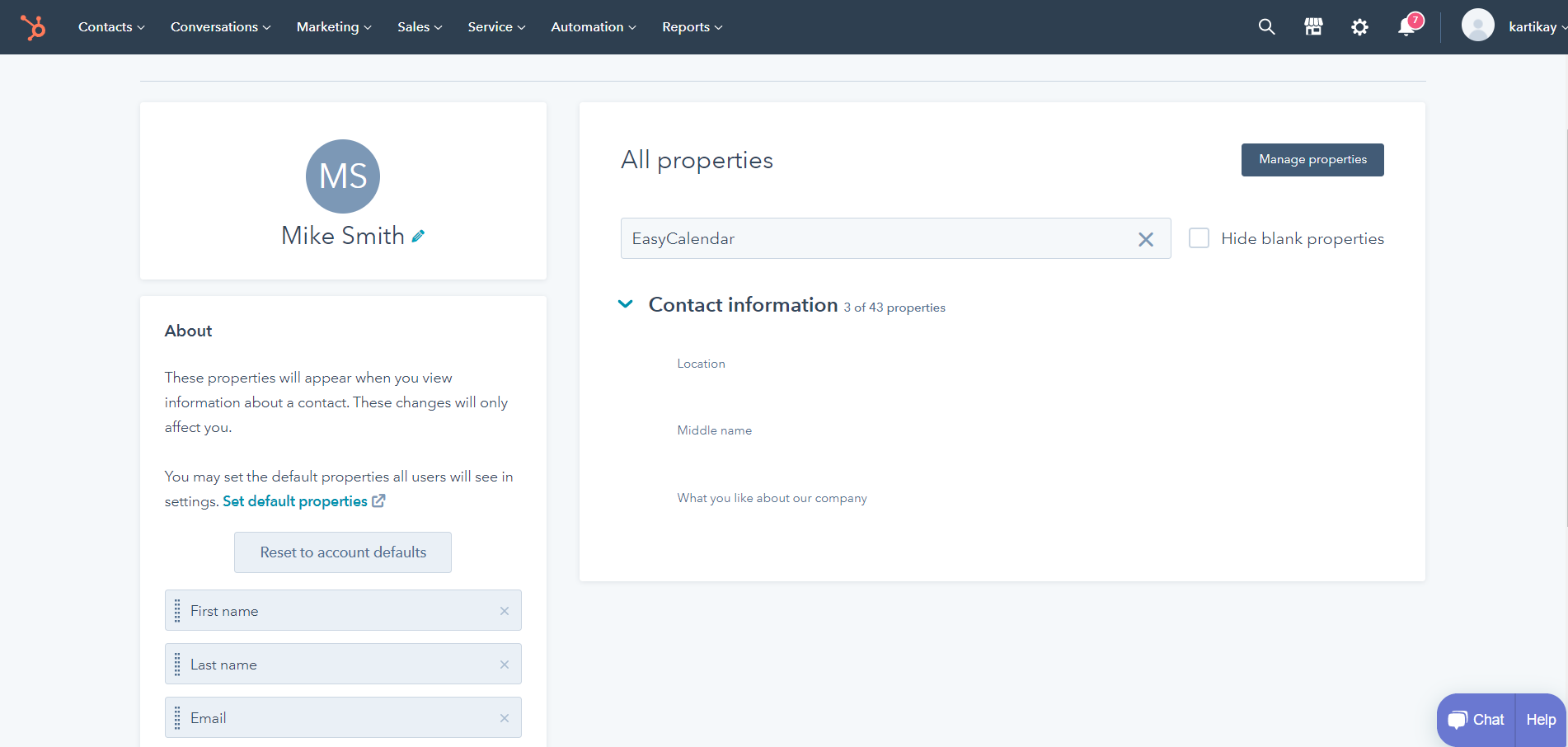 #5 Set up workflow for custom question and answer
With HubSpot workflows, you can map the response of your custom question you created in EasyCalendar's calendar into a contact property of your choice.
For that you need to log in HubSpot and then navigate to Automations, then Workflows after that Create an Enrollment Trigger and follow these steps:
Select Activity Property as filter type
Select Meeting name
Select Contains any of
Add new/Create option EasyCalendar
Select Apply Filter
After performing the above steps, you need to add an Action. To do so follow these steps:
Scroll to down to Property management
Select Copy property value
Choose the custom question create via EasyCalendar in Property to copy from dropdown menu (Note: these custom question property values are the responses your invitees give when they are scheduling an appointment with you)
Set Target property type as contact
Set Property to copy "[Your selected custom contact property name]" to your desire contact property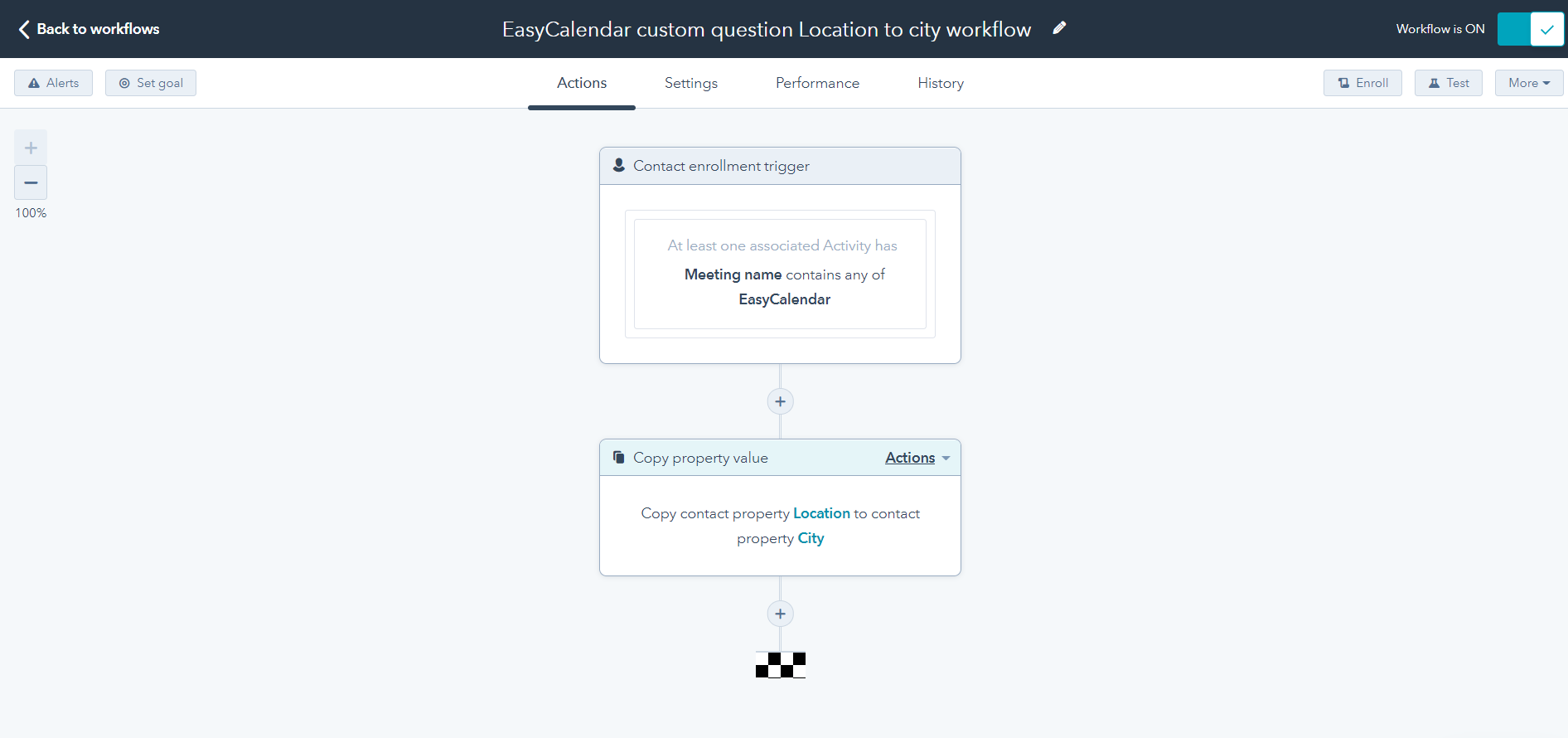 Once you are complete with your workflow, you can run a test and enroll an existing contact to see if it would meet the enrollment criteria based on the workflow you created.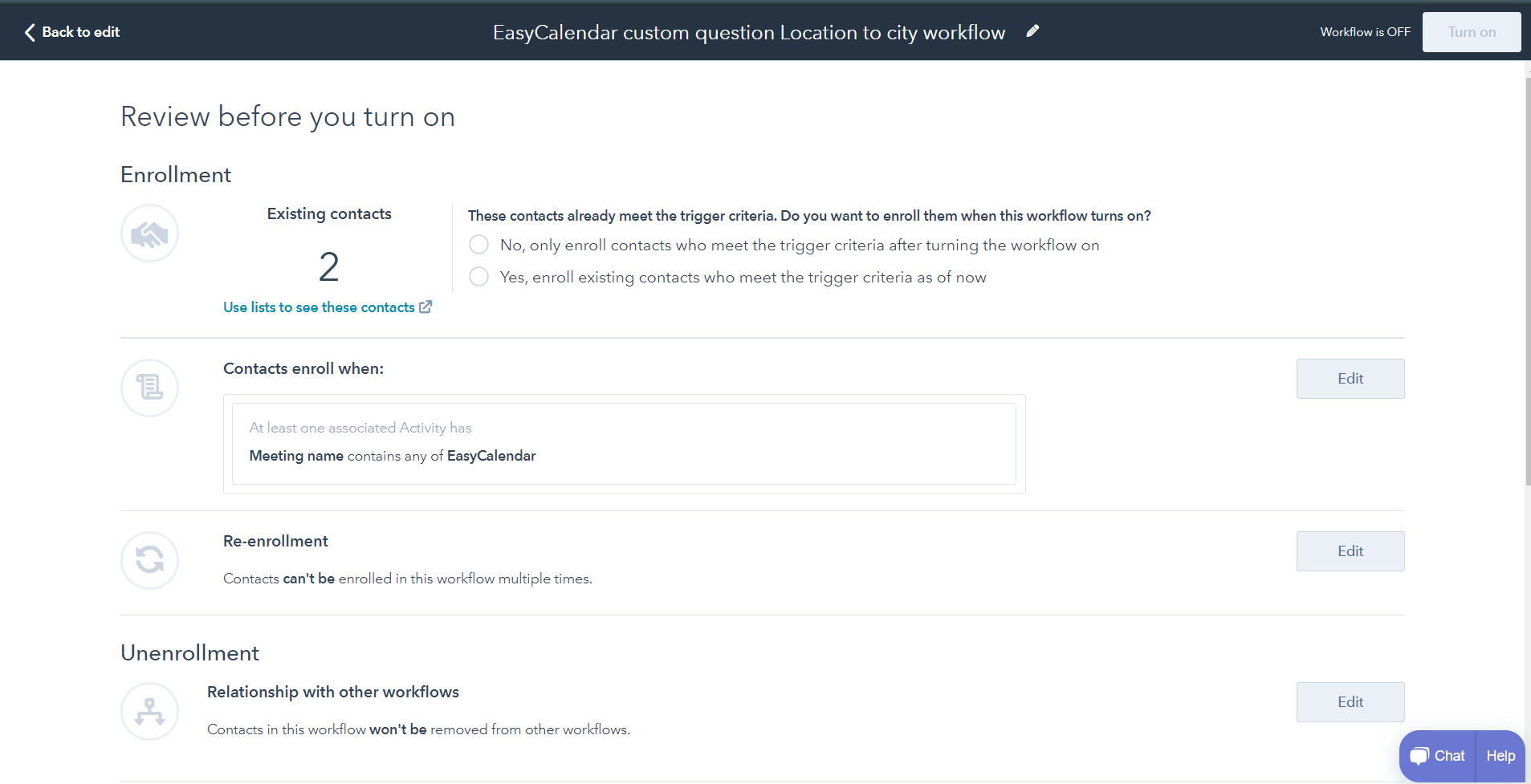 Once the workflow is saved, you can choose to enroll either to newly created or added contacts after the workflow turns on and who meet the trigger criteria or to pre-existing contacts who already meet the trigger criteria.
Afterwards once the workflow is turned on, any new EasyCalendar meeting that is scheduled from Public Calendar will be passed to HubSpot with EasyCalendar in its meeting name and enrolled into the workflow.
Then the custom answer you've specified will be copied to the specific HubSpot contact property field you've designated in the workflow action. 
If you have any queries regarding this feature, feel free to ping us at help@easycalendar.com